Victoria is undergoing an energy transformation, with a net-zero emissions target by 2045. The Victorian Government's support for neighbourhood-scale batteries is one way it supports clean, reliable and affordable electricity for Victorians.
What are neighbourhood batteries?
Neighbourhood batteries (or community batteries) are an energy storage model with the potential to provide many benefits to consumers, communities and the electricity system. They can be owned by electricity distribution businesses or third parties such as community energy groups, electricity retailers, aggregators or private investors.
They are larger than household solar batteries. Typical household solar batteries have a power capacity of about 10 kilowatts (kW), while neighbourhood-scale batteries range from 100 kW to 5 megawatts (MW).
Neighbourhood batteries enable the network to support more rooftop solar by storing solar-generated electricity during the day and discharging it during the evenings when demand is highest. This enables consumers to generate and consume more renewable energy locally and supports Victoria's greenhouse gas emissions and renewable energy targets.
Neighbourhood battery grants
Round 3 of the NBI makes available total funding of up to $2.32 million. Grants are available as follows:
Stream 1 – Business Case
Up to $200,000 for business case development and related works for neighbourhood batteries located behind or in front of the metre.
Stream 2 - Neighbourhood Battery Implementation
Up to $750,000 for implementation.
Visit NBI grants to find out more information.
Neighbourhood battery projects
Victoria's neighbourhood battery initiative (NBI) supports trials of a range of neighbourhood battery models in Victoria, from feasibility to implementation. The initiative strengthens our understanding of neighbourhood-scale batteries' role in Victoria's transitioning electricity system.
Victoria's first ever inner urban community battery
Melbourne's first community-owned neighbourhood battery in Fitzroy North was unveiled on 5 June 2022. The battery project was delivered through the NBI. The battery will soak up excess rooftop solar and supply surrounding homes with local renewable energy.
The Yarra Energy Foundation received $800,000 from the Neighbourhood Battery Initiative for the 110kW/284kWh battery system. The battery has been decorated by a mural entitled 'Set the controls to harness the sun' by artist Hayden Dewar.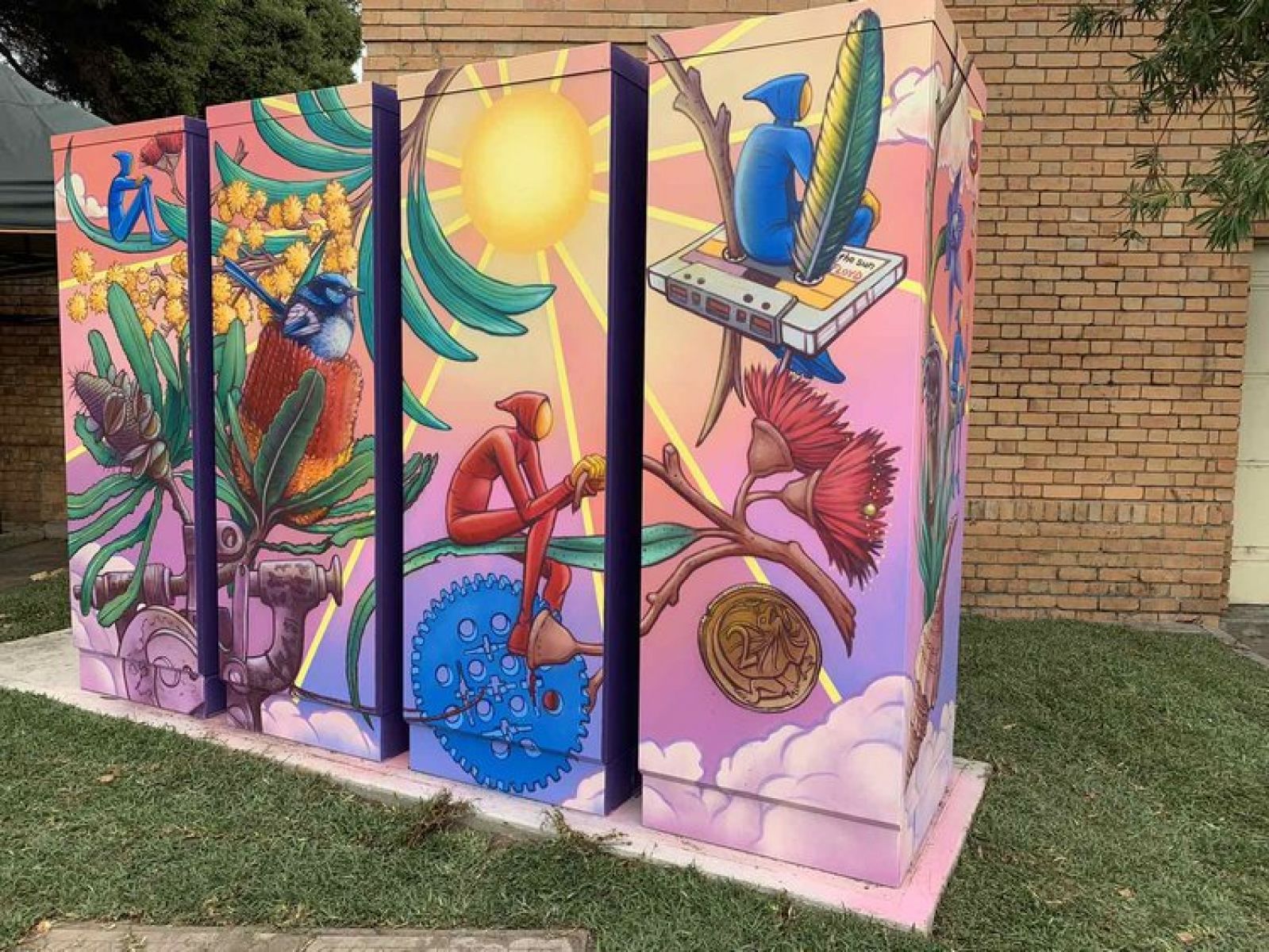 The Knowledge Hub
DEECA has a research partnership with the Australian National University. This partnership has created a Knowledge Hub which brings together critical research and learnings from the NBI on how to develop neighbourhood scale battery projects.
The Knowledge Hub is a one-stop shop of information and provides a useful guide and provides support to all groups on their neighbourhood scale battery journey. Explore the Knowledge Hub.
Is a neighbourhood battery the right solution?
Before embarking on the process to install a neighbourhood battery, it is vital to understand the objective.
is the community or organisation trying to reduce greenhouse gas emissions?
does the group want to increase local solar PV exports?
does the group want to improve energy reliability?
A neighbourhood battery may meet the groups objective, but alternatives may be cheaper, easier or more efficient. So, groups need to clarify the following:
what problems are they trying to solve?
the resources and skills at their disposal
the process of developing a neighbourhood battery business case before launching a project.
Alternative solutions include:
improved energy efficiency
solar bulk buys
household battery bulk buys
GreenPower
speaking to their local Distribution Network Service Provider about solutions to network issues.
Operating and ownership models
There are a range of ownership and operating models, each with their own features and risks. There are many aspects that make up the operating model of a neighbourhood battery, these include:
governance
community participation
market participation
network integration
control system
battery type
land and location
Ownership types can include:
DNSP
DNSP, in partnership with local councils, community organisations or with market participants
third parties (community fund/bank/council) with the market participant
DNSP with market participant
community organisations
market participants for example generator, retailer, aggregator; greenfield developers with market participant.
Costs / revenue / value stack
The business case for a neighbourhood battery project should include the following:
capital expenditure
operating and maintenance expenditure
funding and revenues (incoming payments for the services the battery delivers).
Ongoing revenues will support operating costs throughout the life of the battery. Under current revenue models, in 2022/23, most neighbourhood battery business models require a subsidy to break even. This is partly due to the relatively high cost of neighbourhood-scale batteries, but also due to the current regulations and market. However, new revenue streams are expected to open, and battery capital costs will reduce, so business models can stack up without subsidies
Project team skills
A project team will need to be in place to:
develop a business case
undertake engagement
build stakeholder relationships
seek funding
install and operate a neighbourhood battery.
The team should have energy systems expertise to understand battery models, specifications and integration and communicate effectively with the DNSP. In addition, they will require project management and expertise in community engagement. It is essential the team supports everyone potentially affected by the battery.
The Knowledge Hub has more information on team roles, different aspects of engagement relevant to different stages of the project, communication channels, deliberation and design input and business case development.
Grant funding
To find out more about grant funding, visit the Neighbourhood Battery Grant.
Interactive map of current NBI projects
Find out more about the current NBI projects:
Zoom into the location you are interested in. Each pin represents a project. Note that exact Stream 1 project locations are being established and are estimated by a town location or the centre of the relevant local government area.
Select the pin to see the following information:

Project name
lead organisation
grant stream
further website information
short project summary.
You can filter NBI projects by their grant stream or use the search function to sort by project name.
Neighbourhood Battery Initiative Industry and Community Report
Through the Engage Victoria website, we asked you to share your perspective and experiences about the role of neighbourhood batteries in your community. Here are some insights:
Over 1,000 visitors to the site
350 surveys completed
90% of community respondents were in favour of participating in a neighbourhood battery trial
industry responses featured community energy groups, local government, energy professionals, electricity retailers, Distribution Network Service Providers (DNSPs) and peak bodies
different neighbourhood battery models need to be tested and supported
knowledge sharing is essential
regulatory and other barriers to neighbourhood battery deployment need to be addressed.
Read the Victorian Neighbourhood Battery Initiative Consultation
Page last updated: 28/02/23